Hello there!
Happy New Year! This is my first official missive in 2020 as I peek my head out of the creative cave to say hello and share some news and musings. It's been since Thanksgiving since I've had a chance to write. This dispatch is simply a letter to you to share a bit of what's been happening (and is about to happen) here at the start of the new year.
You can always tell when I'm deep in the creative cave working on something new. I start flying way below the radar even though I don't necessarily mean to. It's just my creative nature and process. My online presence slows and sometimes stops entirely for awhile, there's a lull in my Field Notes dispatches, and I become even slower at responding to emails. I'm simply not able to split my energy and focus when I'm in the thick of bringing a vision to life. I've had to learn how to honor my need to dive deep when the muse is upon me while still doing what's needed to keep my world and home running smoothly, taking care of myself (good food, down time, and lots of rest), and staying in contact with loved ones (even if it's more, ahem, sporadic).
And so it's been since early November. I'm so deep in the cave some weeks I picture myself spelunking, complete with head lamp, compass, mapping gear, and backpack full of essential supplies (you know, like a thermos-full of hot latte with honey, field notebook and pens, and a book of good tales to read at night by the fire). I have taken several breaks from work though this time around, which kept me from burning my candle to a nub. There was Thanksgiving weekend, a week in Kansas with superhubby's family for the holidays, and for a chunk of days after we returned (to recover from a flu bug I caught during our travels).
It can feel like a wrench to step away when I'm in the thick of a big creative project, but I know how essential those breaks are. They refill my creative well with new sights, experiences, stories, and inspiration…and reground me back into the world around me. Even though having the flu is no one's idea of a good time, taking time to rest, ladle on self-care, sleep, and recover in our cozy home as slowly as needed after the whirlwind of holiday travel turned out to be a gift in the end. I watched a lot of movies, read, scribbled in my Field Notebook, and napped…a lot.
Instead of flinging myself head first back into work once I started feeling better, mine was a slower re-entry. A few hours to start and then back out for more rest. Slowly but surely, I sank back into the creative cave again, enchanted and refreshed after my time away. Clearer, too. All the myriad threads I'd been exploring came together in ways I could never have anticipated, woof and weft weaving together with words, images, and spaces to capture it all.
(BTW, my word for 2020 is Weave, which feels like the perfect touchstone for for the year ahead. It's no surprise, I'm sure, that Firefly is my totem and guide this year, and the Key is my symbol. You'll be hearing a lot more about keys very soon).
And so, the Firefly Guild and a new online home for our community are both almost here. If all goes well, you should see an email from me around the new moon this month announcing the doors are open and inviting you in. I'm looking forward to seeing how both the guild and our online home evolve through time as we make these new spaces our own and strike out on new adventures together.
Oh, and before I go, I have to share another enchanting thing that's on the way here at the Burrow…snow! We don't get snow often in this part of Oregon, some years not at all. So when it comes, it's special. The snow is supposed to start falling early this evening and continue off and on until sometime on Thursday. I feel like Loralai Gilmore saying it, but it's true…it smells like snow. I can't wait to stand with face upturned as it snows…even if it doesn't last for long. Having the enchantment of snow arrive as I put the finishing touches on the Firefly Guild and our community's new online home feels like a blessing.
Here's to a new year of fresh new directions, exploration, connection, and growth for us all.
Yours in wild wonder and slow magic (and fireflies galore),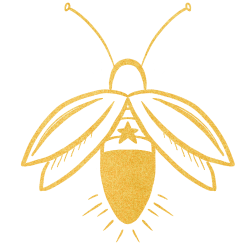 P.S. I wrote the letter above to you last night (Monday) and today just as I was about to sit down to edit it before sending, it started snowing. It's too warm to stick, but I'll take the gift for what it is. I went outside, stood smiling as the snow fell around me, and whispered a grateful thank you to the skies above. And now the sun is shining and the everything is sparkling with crystal drops of snow turned to water clinging to all the branch tips. Happy sigh.
---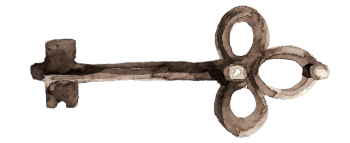 "The key collector kept the most
common shapes and sizes of
keys always at hand, in case
someone was in need of a key
for a door or a cupboard or a
chest. The key collector was
not possessive about his keys.
He gave them away when they
were needed."
The Starless Sea,
Erin Morgenstern
---
Know someone who would enjoy reading this? You'll receive my deep gratitude (and bonus house points) if you'd forward it on to them.
Not subscribed but would love future Field Notes dispatches delivered straight to your inbox all magical like? Easy to do. Pop over here.